---
Showing the single result
---
---
How it works
It's never been easier to order premium quality, customised awards for your next event. Follow our simple 3 step process, or contact us and we'll handle everything for you from start to finish.
Step 1: Search by industry, event type or category.
Step 2: Choose the perfect product for your next event.
Step 3: Complete the order form to receive a FREE quote
Just 3 simple steps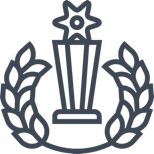 Step 1: Choose a trophy

Step 2: Upload your design

Step 3: We handle the rest
The best in the industry
40 years
experience.
Why Us?
A Trophy and Award company that guarantees delivery on time and also guarantees accuracy. Sounds too good to be true, but in fact we have built All Trophies around a vision of having a referral based business, and never having to explain to customers why they are less than satisfied.
Corporate discounts available. Get in touch to find out more.
Save time & effort – we are a total solution provider for recognising and rewarding your successes.
Increase productivity through recognition.
Looking for the perfect awards
package for your corporate event?
Complete the form below for a FREE quote.
Sign up for news, discounts
& special offers.
Don't worry, we hate spam too. Privacy policy.